A Statement from our President/CEO
We are aware of and are working diligently to address and remedy the conversion of our members' financial resources by SHAZAM, Inc., a former LorMet ACH processor. The events leading up to and surrounding this conversion by SHAZAM, its agents, or processes, are unprecedented in our 87 years of providing financial services. We were troubled and sickened by the financial stress this brought upon households across the Midwest United States and especially those that choose to rely on LorMet's reputation for financial services.
While we are doing everything we can to remedy this, we want our members to know that we were utterly powerless, as Shazam chose not to promptly disclose information during its negligent, unlawful, and unauthorized conversion of our current and former members' funds. Upon learning of this, LorMet immediately investigated the matter and determined that Shazam was responsible for this devastating occurrence. Regrettably, after we contacted Shazam's customer support, they told us that Shazam could not share any information regarding this matter with LorMet, although the scope and magnitude of this incident were known, and should have been known to or determinable by Shazam.
Shazam refused to share information despite knowing that we, our current and former members, and households across the Midwest sought and are seeking answers and solutions. A press release by Shazam urging financial institutions to restore affected accounts while credits were in processing would have alleviated anxiety, financial stress, and overdrafts for all those affected – Shazam's silence was not the answer. In a time when contingency, disaster recovery, and communicative strategy are paramount in any business model, we believe Shazam failed to act in a standard expected manner during a devastating processing event affecting what we believe may involve hundreds of millions of dollars temporarily taken from household accounts.
It is our hope that federal and state regulatory agencies investigate this matter and the vulnerabilities this occurrence levied on businesses and households across the United States. We sincerely apologize for any inconvenience or distress that this may have caused. We will continue to share updates on this event and its resolution. Please know that LorMet is as devastated as many of you are, and we thank you for your understanding and patience while we continue to monitor and work to fully remedy this situation.

Daniel R. Cwalina, President/CEO
LorMet Board of Directors
---
UPDATE: 10:15 AM Wednesday, April 26, 2023
It's our understanding at this time that all credits have been issued by SHAZAM, Inc to our affected current and former members. We once again apologize for the inconvenience and financial burden of this situation to all who were affected.
---
UPDATE: 8:15 AM Wednesday, April 26, 2023
We are aware of ACH processing abnormalities that are affecting current and former members' accounts.
The LorMet Board of Directors and Executive Management team apologizes for the unexpected error of its former processor, SHAZAM Inc. This error affected financial institutions across the country yesterday. We have experienced little cooperation and information sharing from SHAZAM in communicating their resolution to our affected current and former members. Their post below suggests reversals will be issued no later than this evening.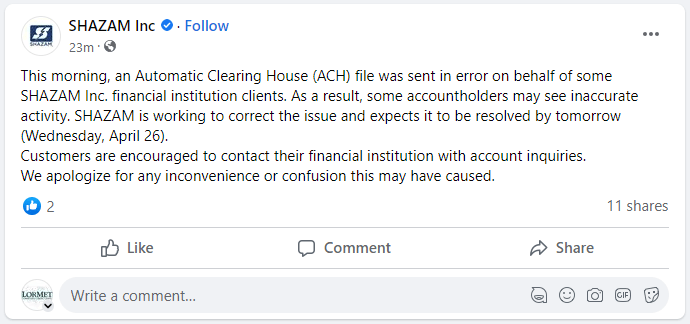 Once again, we sincerely apologize for the inconvenience. We will keep you updated on this page and our social media accounts as more information becomes available.
Last Updated:
April 25, 2023