Nick Mayer Ford West New and Used Car Financing
Ask for LorMet financing on your next vehicle purchase at Nick Mayer Ford West
33450 Lake Road, Avon Lake, OH 44012
Monday, Thursday
9:00 a.m. to 7:00 p.m.
Tuesday, Wednesday
9:00 a.m. to 6:00 p.m.
Saturday
9:00 a.m. to 5:00 p.m.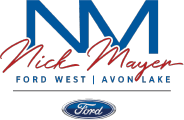 Nick Mayer Ford West Auto Loans
Apply online for LorMet financing on new or used Ford vehicles at Nick Mayer Ford West
Used Car Values – What's My Car Worth?
NADAguides
A variety of resources exist online for your personal use in estimating car values. Valuations provided by these resources may differ from other sources or from that determined by the credit union.
LorMet has no endorsement, sponsorship, or affiliation with the companies/websites listed above. NADAguides is an alliance partner of NADA Services Corporation.